Brace It Orthotics and Prosthetics offers a vast type of orthotics from premade braces to custom-made tailored to patients needs. With our specialized practitioners Brace IT O&P has gained the trust of Doctors and physical therapists to serve in the valley. We offer modern technology to get our custom-made braces from foot Orthotics to infant cranial helmets with our digital fast and easy input you'll be getting the most precise device in the market. Some orthosis we expertise in are Scoliosis, Kyphosis, HKAFO's, KAFO's, AFO's, Custom LSO's / TLSO's, Custom Hand braces, Diabetic Shoes, Custom Shoes, Foot Orthotics, Sports Injury Knee Braces, Compression Stockings, and of course Cranial Remolding Helmets. We thrive to get the patients satisfaction when it comes to our products. Specializing from pediatric to geriatric care our company comes on top to assist with your needs. We carry most of our premade braces in stock which expedites our service to our patients.
Finding the right orthosis could be exhausting so we encourage our patients to come for their free consultation and talk to one of our practitioners or even if you work in the medical field and seek information don't hesitate to give our practitioners a call or they can meet for a quick brainstorming session. Here at Brace It O&P, we put our patients first, don't complicate your life come in now.
Upper Extremity Orthotics
Brace It Orthotics and Prosthetics work with your Doctors prescription sometimes involving a physical therapist whether if it's for the hand, wrist, distal/upper arm, elbow, shoulder, neck, or head Brace It O&P has you covered specializing in custom-made braces to premade braces that are in stock. If a last-minute rush brace is needed and we have it in stock, we'll do our best to make your service as smooth as possible as you already have a lot in mind for surgery.
Lower Extremity Orthotics
Brace It Orthotics and Prosthetics fits and fabricates all types of Foot Inserts, UCBL's, SMO's, AFO's, Knee Braces, KAFO's including PHAT AFO's. Custom braces are fabricated to each patient needs which could be from plastic, leather, carbon fiber, or metal. Including Diabetic wound care braces like CROW Boots, TOAD AFOs, OWLs, Specialized offloading Cam Walkers, to Pressure relief insole shoes. As well as Compression stockings in medical grade Compression for post-surgery vein procedures and daily living style stockings to burn garments. Our premade braces can be from the many vendors we have accounts for to meet your need if an off the shelf item is ordered.
Pediatric Orthotics
Brace It Orthotics and Prosthetics love working with little pediatric patients. We thrive when it comes to pediatric braces base on your kids needs we like to be all on the same page when it comes to the practitioner, Doctor, and physical therapist as having all in the same page eases the care of your kid which is less stressful for the parent. From simple foot orthotics to elaborated pediatric braces like Scoliosis, HKAFO's, KAFO's, AFO's, custom Hand braces, protective helmets, custom remodeling helmets, we do them all. We used high end manufacturers like Cascade DAFO, Spinal Tech, JMMR, Orthomerica Starband, to SureStep which are only a few from our extensive network list. Our skilled pediatric practitioners make a difference.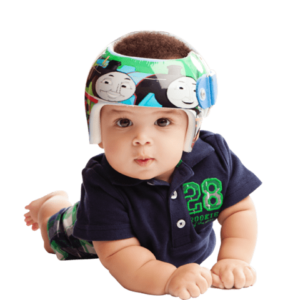 • Plagiocephaly
• Brachycephaly
• Scaphocephaly
• Post-operative Craniosynostosis
We use StarBand Doc 3d scanner to scan our infant patients to treat them for a corrective remolding helmet. This process is as easy as it can get since we don't use the manual plaster molding technique which has been outdated which some practices still practice. Best age to treat the infant is from age 4months – 8 months. Some insurance might cover which we can do a free consultation if in-need it's medical necessary we'll submit to your insurance, but rest assure we have the cheapest prices in town.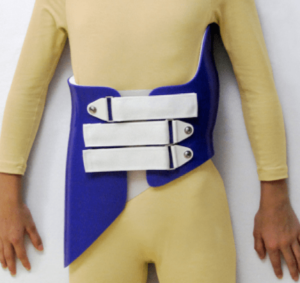 Used to prevent spinal curve progression and to maintain the appearance of the back. Best age for treatment is early teen years.
The goal of brace treatment is to prevent the curve from getting worse. Brace It O&P works with your Doctors Rx to fabricate a custom brace and tailored for your needs. Majority of health insurances cover the braces. Which once we do the consultation we'll cast mold the patient with other measurements to get the precise mold of each individual patient. The process is easy and pain free. We'll do frequent follow ups once the brace is obtained through the brace treatment.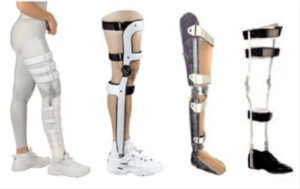 KAFO braces consist of a thigh and lower leg shell that are connected by a system of hinges at the knee joint. The KAFO brace can have various shapes, materials and add-ons.
The shell can be made of either thermoplastic, leather or carbon fiber the knee hinge can either by open or lockable; the brace can extend to the foot with a semi-rigid sole or hinged boot.
We encourage to bring you old KAFO if you have been using one to evaluate it. Our free consultation can give you a b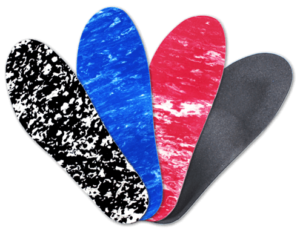 Orthotics improve the way that you walk, by correcting the angles at which the foot strikes the ground, increasing the efficiency and comfort of your stride and stance.
Don't be FOOLED by One-Size-Fits-All produced by others. Each foot is different.
Orthotics are shoe inserts that help correct body alignment and irregular walking patterns. Custom fitted orthotics are perfectly and specifically fitted to the contours of your feet. Come now for the great deal of $299 for the pair.